Quick turnaround Print
PRINT QUALITY
Standardizing our processes and materials enables us to achieve a higher quality outcome in all our printing services. We use high quality materials in our standard products which will communicate your business's professionalism, quality and durability.
QUICK TURNAROUND
We have taken the products that mean the most to our customers, and streamlined their production. Items such as business cards, flyers, and postcards can often be in your hands within 2-3 business days after you are happy with your design. See our "Quick Turnaround Print" for a complete list of products.
PRINT SERVICES
We are a small business with decades of experience in print and design. We strive to make ordering simple. We fix files, create designs and inspect every file before printing.
HISTORY
In 1985, Wahli Printing started in the family garage. Over the years, we moved from the garage to a small plaza in New Haven, Indiana, before settling on, what is now, Old 24. Through the years, and through the moves, family has been an integral part of Wahli Printing with all 5 of the Wahli kids working at the shop serving the Fort Wayne area.
In January of 2020, Quinton and his wife, Michal, took over the family business, and opened it under a new name–Wild Ox Press. The name change communicates simplicity, quick workflow, design, reliability and strength. We believe design is wild in its exploration. Combined with reliable and proven production methods.
We remain a family owned business with four young children of our own. Family values are what we want to bring forth in our company. As we take the legacy of Wahli Printing into the 21st Century, we will be working hard to bring your ideas and printing needs to life through concepts, designs, and a strong end result.
Made in the USA
We strive to use US vendors, as much as possible, and to purchase material that is made right here on our American soil. Our desire is to be part of the solution to secure our economy for future generations.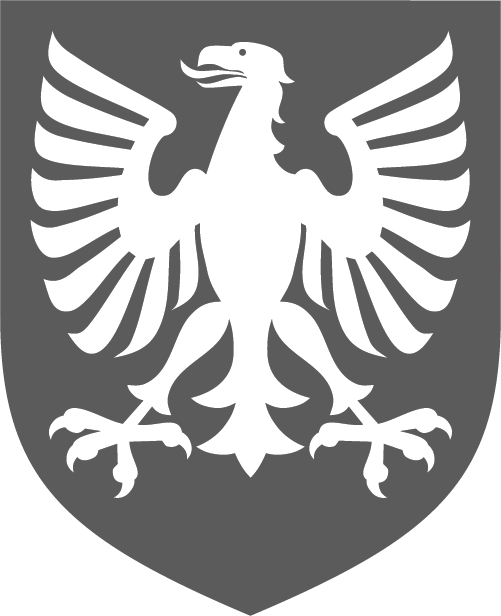 Wahli Family Crest and Logo